Joining Our School
Joining a dance school is a very exciting time. We would like you to feel confident that you are choosing a school that will suit you and your child. On our website you will find lots of information about the ethos and activities within our school. If you are interested in joining us, or attending a free trial lesson, please contact us to arrange a suitable date.
When Can You Join?
Children can join our dance school anytime throughout the year. We do suggest that you do contact us before coming and not just show up, so that we can see if we have spaces available for your child's age and ability. Once you have contacted us, we will arrange with you a suitable date for your child to come along and have a Free Trial Session.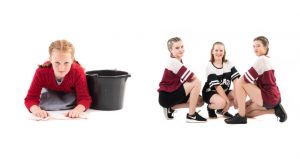 At What Age Can Children Start Dancing?
The average age for a child to start attending a dance class is around the age of 3yrs. As with most averages, there are exceptions to the rule and some children are confident enough to begin at 2.5yrs while others may benefit from starting later than 3yrs.
The 'readiness' of a child to start is based on the following criteria:
An enjoyment of music and movement
Confidence to attend a class without a parent or prime carer in attendance
Awareness of the need to listen and co-operate in a group learning situation
No longer wearing nappies
We provide dance classes for young children that capture the imagination; provide enjoyment in movement and teach basic technique which can be built on in the future. We ensure our classes are age appropriate and have logical progression so that the interest and imagination of the children is constantly engaged. Find out more about our early years dance classes.